Business Consulting
Formation of Business Entities:
(Sole-Proprietorship, Partnership, Limited Liability Company, Corporations)
Employment Agreements
Franchise Agreements
Partnership Agreements
Operating Agreements
Non-Disclosure Agreements
Joint Venture Agreements
Contract Drafting and Review- Contract Negotiations
Intellectual Property (Copyright, Trademarks, Patents)
Asset Purchase Transactions 
Business Negotiation, Arbitration, and Mediation- Breaches of Fiduciary Duty
Corporate and Business Disputes
Commercial Litigation
Residential Real Estate Closings
Commercial Real Estate Closings
Real Estate Litigation
Residential Real Estate Purchases/ Sales
Commercial Real Estate Purchases/ Sales
Residential Real Estate Leasing
Commercial Real Estate Leasing
Commercial Litigation
Deed Transfers
Lease Preparation & Review
Easement Creation & Termination
Coop & Condo Representation
Landlord & Tenant
Commercial Leases
Appeals
Asylum
Deportation & Removal
Family Based Immigration
Green Cards
Immigration Fraud
Naturalization & Citizenship
Visas
SECURITIES LAWS AND REGULATIONS
Consultation/Risk factors
Private placement memorandum
Term sheet preparation and negotiation
Subscription agreements
Investor questionnaires
Shareholder agreements
Registration rights agreements
Mergers and Acquisitions 
Filing Form D with the Securities and Exchange Commission
Compliance with the state blue sky laws
Cryptocurrency & ICO 
We strive to achieve results that exceed your expectations and are committed to understanding your unique goals and needs. We will work hard, provide superior legal services in a timely, effective, and efficient manner, while maintaining the highest standards of professional integrity. At our firm we want you to feel comfortable and at ease, so we provide a friendly, down-to-earth environment. We don't want to saturate you with legal jargon, we want you to know the law, plain and simple, so we can strategize and create a game plan. We see the attorney-client relationship as a team, both working towards the same goal.
Running a business is no easy task. Whether you're just beginning your first start up or about to close a corporate merger, the amount of legal issues you will face are going to be overwhelming. John Benemerito has owned his own business since he was fifteen years old. He managed to grow and maintain his business through high school, college and law school.
After law school, John continues to operate his business. He teamed up with Alejandra Gonzalez and opened their own law firm. They are well aware of the challenges that a business owner faces and therefore are the perfect team to help you through your business venture. We understand that every business is unique and we will work with you every step of the way so you can be at ease knowing you have a great legal team behind you that allows you to focus on running a successful business.
Intellectual property is a major aspect of any growing business. Every business, regardless of the type of product or service offered is likely creating and using some kind of intellectual property. It is important to take steps to protect, manage and enforce intellectual property rights so as to get the best commercial results from ownership and avoid disputes. Whether by seeking trademark protection for a name or slogan, seeking patent protection for a new or improved invention, maintaining formulae as trade secrets, seeking copyright protection in original creative designs, or obtaining a license to use another's intellectual property, there is great value in protecting your intangible assets.
At Benemerito Attorneys at Law, our IP/Patent Attorney, Kristin Grant, can provide a range of services to protect and leverage your assets. She works closely with our clients to create strategies to protect, monitor, monetize and enforce their intellectual property rights.
In our experience dealing with business owners, it is inevitable that a real estate opportunity will arise at some point in time. Whether it involves renting a store front, buying a new location or purchasing investment property, real estate is an essential part of the business equation. That's where we come in. We are well aware of all real estate aspects from both the buyer's and seller's end and are equipped to handle your real estate transaction from start to finish.
Additionally, we also handle residential real estate transactions, such as the purchase of single-family homes, condos, and co-ops
In our experience working with Startups, we found that a lot of people starting businesses in the United States are not from the United States. We understand that it can be stressful for entrepreneurs to build a successful business with the constant worry of their immigration status hanging over their head.
At Benemerito Attorneys at Law our Immigration Attorney, Angela Linhardt, can help ease those worries. Her team has handled thousands of visa and immigration cases for individuals seeking entry into the U.S. she has helped individuals take the next big step in their lives; she has helped businesses and individuals pursue their educational, professional, and personal opportunities.
Regardless of your dreams or goals, we have the skills necessary to help you make them a reality!
SECURITIES LAW AND REGULATIONS
It's no secret that Startups need to raise capital at some point in order to expand their business or, at the very least, survive. Many entrepreneurs will start with their friends and family first and then move on to Angel Investors and Venture Capitalists. At Benemerito Attorneys at Law, we guide our clients through the process of raising capital and prepare them for the transaction.
We provide them with all the documentation and guidance they need in order to obtain their desired investment. We also ensure full compliance with all federal and state securities laws.​
Wellin5 acquires Therachat marking its entry in the US Telehealth market with the help of Benemerito Law.
"We are very excited about acquiring Therachat," stated William Masih, Founder, and CEO of Wellin5. "This is a massive accomplishment in our plan to emerge as a leader in the preventive mental health space. Wellin5 is strongly positioned to grow exponentially over the next three to five years in North America and internationally. This year, we expect to close the next round of funding to expand our partnerships with insurance providers and employee benefits administrators to support our anticipated growth model."
Pierre Laguerre, founder of Fleeting, a platform designed to connect companies with qualified and reliable CDL drivers, has made history as the first Black man to raise the $1.07 million maximum in all regulation crowdfunding platforms.
According to the Securities and Exchange Commission (SEC), a company is permitted to raise a maximum amount of $1,070,000 through crowdfunding offerings during a period of 12 months and Laguerre's Fleet managed to do just that with the help of Benemerito Law.
ATLANTA, May 10, 2021 /PRNewswire/ — Today, Fleeting, a Black-owned commercial trucking and fleet management services company, is proud to announce that it received a seed round investment of $500,000 from Kyrie Irving, NBA superstar and founder of new consulting firm, KAI 11 Consulting, and Lockstep Ventures, the new venture fund founded by Michael Loeb, Bonin Bough, and Marcus Glover.
Sparrow uses artificial intelligence to improve athletes' performance. While the vast majority of their focus is on golf today, Sparrow's technology is being developed so that it will be able to expand rapidly into other sports in the future. To help fund their expansion plans, Benemerito Law assisted Sparrow in raising $1,645,036 through equity crowdfunding on Wefunder.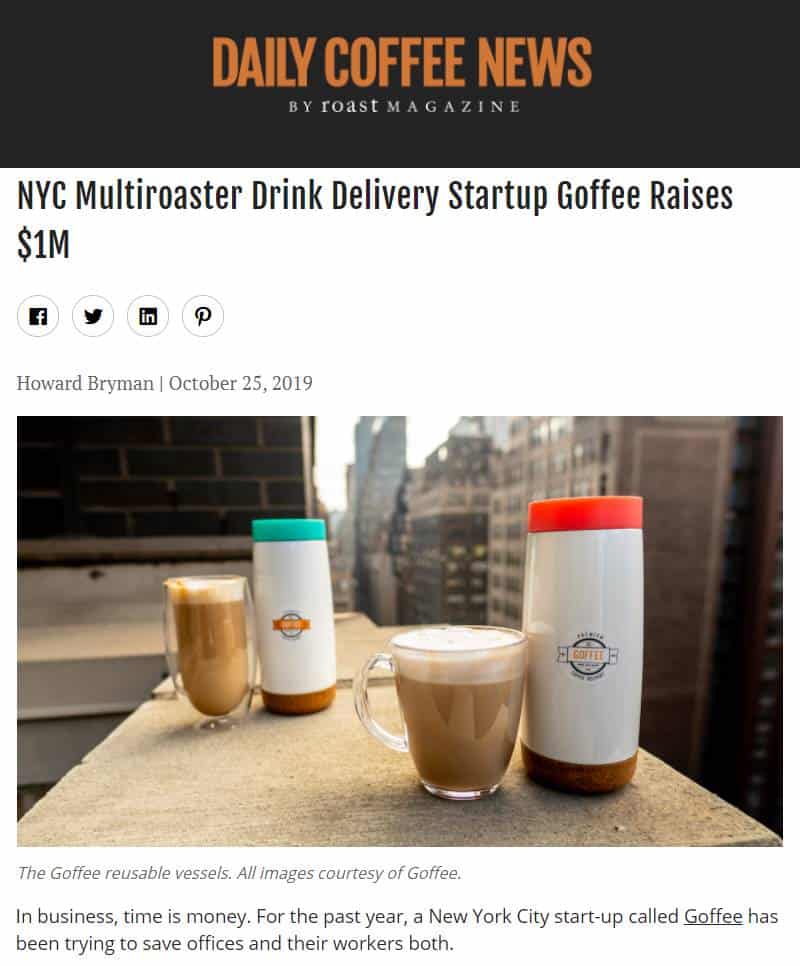 Those drinks are also delivered one step at a time — on foot, in backpacks. The concept seems to be resonating with grassroots investors. Just this week, Goffee announced it has raised $1.07 million — the maximum amount allowable by law for regulation crowdfunding — by way of crowd equity campaign platform StartEngine.
NEW YORK, July 26, 2021 /PRNewswire/ — BlockQuake™ today announced the official launch of its regulatory-driven digital asset exchange. The BlockQuake™ Exchange, which is now accessible worldwide, aims to set the industry gold standard in global regulatory compliance and security for digital asset trading platforms.
NEW YORK, May 2, 2022 /PRNewswire/ — Accern, recognized as the leading NoCode NLP platform for AI breakthroughs, today announced the close of its $20 million Series B round co-led by Mighty Capital and Fusion Fund, alongside Tribe Capital, Viaduct Ventures, Shasta Ventures and Gaingels.
NEW YORK, Nov. 1, 2022 /PRNewswire/ — Roots Automation, creator of advanced, intelligent Digital Coworkers for the insurance industry, today announced the closing of $10 million in a Series A round of funding. MissionOG led the round, supported by Liberty Mutual Strategic Ventures, Vestigo Ventures and CRV.
"John has the depth of knowledge that allows him to simplify even the most complex challenges a startup can and will encounter. He is thorough, patient and exhibits an exceptional level of interest in every aspect of your business regardless of the stage of your company. He responds to emails within minutes and top it off has some of the most reasonable fees on the market."
Al P.
"John is an awesome attorney to work with! He is very friendly and nice, doesn#APOSTROPHE#t have an attitude but is very helpful and takes his time explaining everything in detail. Doesn#APOSTROPHE#t lose his cool no matter how many "dumb" questions I asked or how many times I asked him to revise the contract. A knowledgeable attorney who fixed our contract fast. Would highly recommend! A++++++++++++++++"
Anna Z.
"I've never known another lawyer more prepared or focused than John B. His calmness throughout a case is like no other which makes him extremely tough to beat. He's also one of the most ethical lawyers I've ever known. You won't regret going with Benemerito Attorneys at Law. "
Chris I, NY
"One of the finest law firms in NYC . This law firm combines strong legal skills and compassion similar to family. Their kindness and dedication is inspiring and I'm extremely happy with my decision to go with them."
Jenna, NY
"One of the finest law firms in NYC . This law firm combines strong legal skills and compassion similar to family. Their kindness and dedication is inspiring and I'm extremely happy with my decision to go with them."
Richard S.
For any general inquiries, please fill in the following contact form:​